With its tropical climate and vast distance from any other land masses, Hawaii has some pretty spectacular wildlife, including just two species of owls. One owl is native to the island, while the other was introduced and quickly became invasive. The first is the Hawaiin short-eared owl and the second is the barn owl.
There aren't very many predators in Hawaii. In fact, the Hawaiian short-eared owl is one of Hawaii's only native predators, and they hold a mythical status among the island's native people. They are believed to rescue lost souls and guide armies to safety. One god even took the form of an owl to help win a battle and protect his subjects.
Neither of these raptors is easy to see in Hawaii, but if you keep a good eye out and are very patient, you might be able to spot both.
Here is the list of owls in Hawaii:
Hawaiian Short-Eared Owl
Barn Owl
2 Types of Owls in Hawaii
1. Hawaiian Short-Eared Owl (The Pueo)
Scientific name: Asio flammeus sandwichensis
Size: 15 inches long
Weight: 7.3-16.8 ounces 
Wingspan: 33 inches
This owl is a sub-species of the short-eared owl, which is found across the mainland and you can only find it in Hawaii. There, they are known as pueo and they are pretty rare.
Fortunately, they hunt for small mammals and birds during the day, so if they are around, you have a better chance of finding one than if they were nocturnal hunters.
Pueos are small and stocky, with brown and cream-mottled feathers and a round face. They have yellow eyes and a black bill.
If you see an owl in Hawaii and it's not a barn owl, it is almost certainly a pueo (unless someone smuggled a different species to the island and let them out).
If you see an injured pueo, call the local wildlife authorities immediately, because the state is working hard to save the few of these birds that are left.
The chances are much higher that you'll see the invasive barn owl, which we'll talk about in just a bit.
The barn owl was brought to the island in the 1950s to battle the rat population that was growing out of control. Pueos, on the other hand, arrived sometime around the arrival of Polynesian people.
2. Barn Owl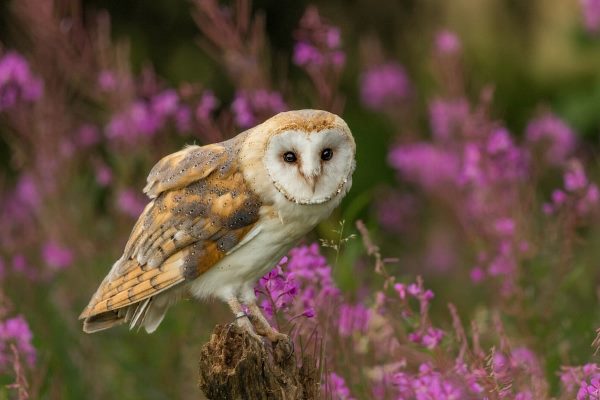 Scientific name: Tyto alba
Size: 12.5-16 inches long
Weight: 14-24.7 ounces 
Wingspan: 40-50 inches
The barn owl got its name because it likes to live in abandoned barns and other buildings in rural areas. They'll also nest in the cavities of trees. They hunt by soaring across open areas and listening for prey. As you might guess, they have excellent hearing. 
You can tell it's a barn owl by its distinct face. They have pure white, heart-shaped faces with large, dark eyes. Their wings and back are gray, golden, or cinnamon and somewhat mottled. The undersides of their wings are white, as is their chest, which means they look all-white from underneath when they're flying. They don't have any ear tufts as the great horned owl does.
Young barn owls will fly far away from where they were hatched to find their own territory, but once they find a spot they like, they stay there for life.
Once they find their home, they hunt for their main sources of food, which are small mammals such as rats, lemmings, voles, and mice. They'll also eat bats, small birds, and rabbits.
You can find barn owls across the US and Mexico except in a few parts of the central northern states like North Dakota. The owl lives in Hawaii year-round.
Also Read: Woodpeckers in Hawaii