Owls are uniquely shaped birds of prey with stocky bodies that sit upright and special feathers that allow them to fly silently. These birds are nocturnal with large eyes and binocular vision. Their large heads are capable of rotating up to 270o to look behind them without moving.
Table of Contents
 These birds are found all over the world in most habitats except at the poles. Owls are usually solitary. Most species hunt during low-light times, either at night or at dawn and dusk. People do not often see groups of owls. 
When owls form groups, they are quiet. Many people attribute wisdom to owls, maybe because they look so quietly official as they stand upright on their branches. An official-looking group of owls is usually referred to as a Parliament.
Other collective nouns for owls:
Bazaar
Wisdom
Eyrie
Congress
Looming
Hooting
Sagaciousness
Diss
Stooping
Look
Flock
On rare occasions, a group of owls may fly together. Because owls are silent flyers, a group of flying owls may be referred to as a Silence. The only groups of owls that usually fly together are those in a family group. 
Owls are excellent hunters because they fly silently. Their feathers have evolved in a way that keeps them from rubbing together. The friction of feathers rubbed together is loud, but owls have a fringed edge that some scientists believe cuts down on that friction from flying.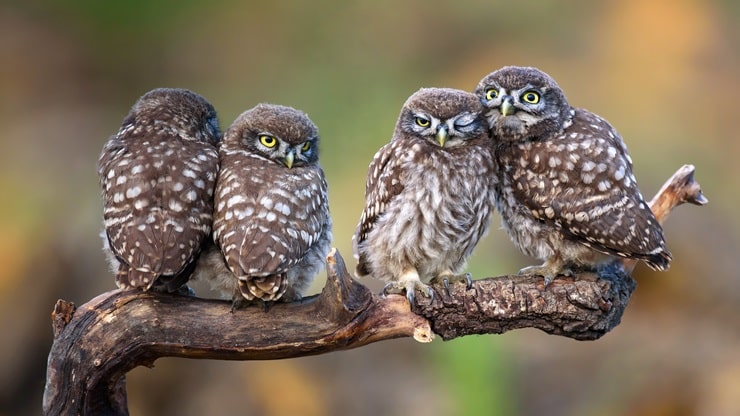 What Is A Group Of Baby Owls Called?
Female owls lay between one and fourteen eggs in their nest, depending on the species and the amount of available prey. Female owls incubate the eggs until they hatch out after about three to five weeks. 
Newly hatched baby owls are called owlets. Because the female lays eggs over several days, the owlets in the nest are of different ages. They hatch out blind and helpless. The female owl broods and incubates the owlets until they can keep themselves warm.
A couple of weeks after hatching, the owlets are old enough to regulate their own temperature.  They start to feed themselves from the food captured by the male owl and brought to the nest. Once all the owlets can be left alone, the female will sometimes help hunt for food.
Sometimes the older owlets out-compete the younger ones for food. When that happens, the younger owlets may starve to death if the amount of food brought to the nest is scarce. Usually, however, the time when owlets start to hatch is when the most prey is available.
The owlets start fledging at around four or five weeks for some species or seven to eight weeks for others like the Great Horned Owl. Sometime in the fall, the juvenile owls have grown in their adult feathers and are ready to live independently.  
What Is A Pair Of Owls Called?
Male owls hoot in the early spring in an attempt to find a mate. Each male will put on a display for the female or give her food to demonstrate his fitness. Once the male and female pair up, they will rub their bills on each other and preen to keep their feathers healthy.
Owls are not monogamous. They pair up at the end of the winter and find a territory. These breeding pairs do not have a specific name. Females select the nesting location but do not build their own nest. 
Owls lay their eggs in cavities hollowed out by woodpeckers (like Barred Owls), holes (like Tawny Owls), burrows (like Burrowing Owls), barn lofts (like Barn Owls), abandoned nests, or depressions in the ground.
Do Owls Flock Together In Groups?
Most owl species do not flock together in groups of unrelated birds. Typically, groups of owls observed by people are those of parents with their young. In some species, owls may roost together in colonies.
The reason for these colonies of roosting owls may be for warmth during the cold winters. It may also help owls find a mate at the beginning of the breeding season. Owls find places to roost near good hunting locations, so better hunting grounds may have several roosting birds.
Owls are carnivorous. They primarily eat rodents like mice, squirrels, and voles, as well as lizards, frogs, and snakes. Some species primarily eat fish, while some smaller owls eat many insects.  
Some owls can live for over twenty years. Larger species of owl generally live longer than smaller owls. Many owl populations are in danger due to habitat loss. Of the 227 owl species, many are endangered or vulnerable to extinction.
Do Owls Migrate?
Some owl species migrate south for the winter, just like other birds of prey. Many owls fly at night, unobserved by bird watchers. They migrate to places where food is more plentiful, then return to their breeding grounds when prey populations increase in the spring.
Other species of owl like the Snowy Owl do not migrate at all. They have adapted to the changing seasons and seasonal prey abundance. Various physiological adaptations, like more feathers to help trap heat close to the body, allow them to survive in the coldest temperatures.